Electric Vehicles at Werner Hyundai
Reasons to Buy an Electric Vehicle
Are you looking at the market for a new car? Check out the electric vehicles (EVs) we have at Hyundai Werner. These high-tech wonders offer the following advantages over their internal combustion counterparts.
Tax Incentives
The government and utilities want to help you tap into the increasing demand for EVs by granting you tax incentives.
The US Federal government gives you up to $7,500 in tax credits to reduce the cost of an all-electric car, which can bring down the often high prices of EVs to within your budget.

While the state of Florida offers no tax credits for buying a new EV, many local organizations have incentives. The Kissimmee Utility Authority provides a rebate of $100, and the Orlando Utilities Commission offers $200 as well.

If you install a home charging station to power up your vehicle, the Kissimmee Utility Authority delivers rebates of $100, and the Jacksonville Electric Authority rewards you with up to $7 per month to encourage charging during off-peak hours from residential Level 2 charging stations.
Less Maintenance
Because EVs have fewer moving parts, they require less maintenance than traditional autos. You won't have to fret about changing the oil that is required to lubricate standard engines since EVs have electric motors. There is no air intake, so you won't have to change air filters.
While EVs do require some maintenance and repair, the cost is about half when compared to traditional vehicles. According to Consumer Reports, drivers who buy electric cars save an average of $4,600 in repair and maintenance costs over the duration of EVs compared to gas-powered autos.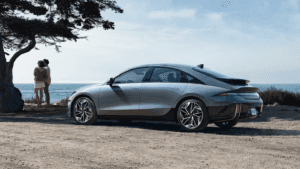 Kinder to the Environment
Pure electric cars have no tailpipe emissions to produce, which avoids the release of greenhouse gasses like carbon dioxide, hydrocarbons, and ozone into the air. If the electricity used to charge EVs comes from renewable sources, the effect on the environment is kinder.
Want to know more about EV models like the 2023 Hyundai IONIQ 6 or the 2023 Hyundai Kona EV? Then get your questions answered and go for a test drive by coming to Werner Hyundai in Tallahassee.